Welcome to CitizensforCommonSense.net!
Dylan Ratigan's Epic Rant on the International Banking Cartel and Political Corruption

Twelve delicious minutes of Judge Pirro on the Divider-in-Chief


You must see the Senate and how they operate. Apparently no bill in Congress get read before they vote on them.
Secrets & Lies of the Bailout
It has been four long winters since the federal government, in the hulking, shaven-skulled, Alien Nation-esque form of then-Treasury Secretary Hank Paulson, committed $700 billion in taxpayer money to rescue Wall Street from its own chicanery and greed. (More >>>)
Lead-Paint Rule Counterproductive
Next month will mark the second anniversary of the Environmental Protection Agency's Renovation, Repair, and Painting Rule, known as RRP, under which contractors who work on houses built before 1978 must be trained and certified to work safely with lead paint, which can have a negative neurological impact on young children. The rule kicks in when at least six square feet of painted surface will be disturbed. If you hire someone to work on your home who is not requiring you to sign a "Renovate Right" pamphlet, that person is breaking the law and could face steep fines. (More >>>)
Concealed Carry Reciprocity Bill Passes House
The House passed national concealed carry reciprocity legislation on Wednesday evening by a vote of 272-154.
The bill, H.R. 822, is intended to allow persons who hold a concealed carry permit from one state to also carry anywhere in the country, with the exception of Illinois and Washington, D.C.
Though the bill passed by a wide margin, it was not without controversy on the pro-gun side of the debate. In previous alerts, GOA has pointed out several flaws in the legislation.
* It forces Vermont residents (who do not need a permit to carry) to either obtain an out-of-state permit or to push their state to pass a more restrictive concealed carry law than it now enjoys; (More>>>)
If You own a House
EPA's new lead safe regulations are onerous and outrageous, requiring contractors to do their work in a "lead safe" manner that will cost the home owners thousands of additional dollars and potentially subject contractors to future litigation.

Some of the new requirements:
Contractors must preclean the home, Yes clean before work begins.
Contractors must remove all furniture from areas being worked on or completely wrap those items in plastic.
The area being worked on must be isolated from the rest of the house.
All debris must be either wrapped in plastic or places in plastic trash bags before leaving the containment area.
Workers must wear protective overalls, respirators, rubber gloves, booties, and glasses
A special HEPA vacuum costing $500.00 or more has to be used, the filters costing approx, $125.00 each has to be replaces after each job.
Caution tape and warning signage has to be places throughout the job site.
The outside of the house has to be protected with plastic and signage as well.
So far the EPA has required contractors to pay them $300.00 for the privilege of doing these things and we have had to attend an 8 hour class costing an additional $200.00 for certification.
EPA fines for violators is $37,500.00 per incidence. But the homeowner can do all the work, contamination they want, without taking any of the above precautions.

These regulations translate to thousands of additional dollars that home owners will have to shell out. The kicker is, homeowners cannot refuse these measures. If they hire a contractor, electrician, plumber, painter, or any one else who disturbs more than 6 square feet of painted surface in a house built prior to 1978 prepare to be screwed. Approx. 80% of the housing in our area was built before 1978.

Contact you Congressmen and US Senators now and ask them to reinstate the Opt-out clause which would allow you the home owner to decide for yourself if you want to pay for these extraordinary measures.

John D

P.S. A completer set of rules are at www.epa.gov
Tax dollars to build mosques
The State Department is sending Imam Feisal Abdul Rauf - the mastermind of the Ground Zero Mosque - on a trip through the Middle East to foster "greater understanding" about Islam and Muslim communities in the United States. However, important questions are being raised about whether this is simply a taxpayer-funded fundraising jaunt to underwrite his reviled project, which is moving ahead in Lower Manhattan.(More>>>)



Mosque Makeovers With Your Tax Dollars

While we cut spending & jobs at home we're rebuilding Mosque's abroad.(More>>>)

Comment Please Radio Show
Tuesday March 8, 2011
John DiPrimio hosted a program on called "Comment Please" on WNPV1440 AM from 12:00 PM to 1:00 PM. The archive of the show is posted below.

Tuesday March 8, 2011
---

Dear Freedom Action Activist,
Are you as angry as I am about the federal ban on standard light bulbs?
I hope so because Freedom Action is launching a national grassroots campaign to overturn the ban on incandescent light bulbs at www.FreeOurLight.org, and we need your involvement. Click here to sign the petition to Congress now. (More >>>)
---
LTC Joe Clark
Army Budget Office (3D349)
CONOPS Budget Officer

WARNING TO VETERANS

Forwarded by Kevin Secor, VSO Liaison, Office of the Secretary of the Department of Veterans Affairs.

An organization called Veterans Affairs Services (VAS) is providing benefit and general information on VA and gathering personal information on veterans. This organization is not affiliated with VA in any way

Websites with the name "vaservices" immediately after the "www" ARE NOT part of the Depatment of Veterans Affairs, the US Government agency. Do not go to them or if approached or called, do not offer them any information concerning yourself or data on other veterans. Keep in mind that the real VA website ends in .gov. Also, be aware that the Department of Veterans Affairs does not randomly call veterans, nor does it ask veterans for information which it does not already have--like Social Security Numbers. In particular, if you have not dealt with the VA previously--and in person--and all of a sudden, you receive a call from someone saying they are with the VA or something similar sounding, hang up the phone. Also, do not respond to emails which suggest that they are from the VA. The VA never conducts official business nor asks for personal information by email.
(More >>>)
---
Comment Please Radio Show
Tuesday September 21, 2010

John DiPrimio hosted a program on called "Comment Please" on WNPV1440 AM from 12:00 PM to 1:00 PM. The archive of the show is posted below.
September 21, 2010
---
Sledgehammer ACTION ALERT
From Tom DeWeese, President
American Policy Center
An alert from our Friends at:
The Center for the Defense of Free Enterprise
www.cdfe.org
Washington Passes Secret Energy Tax
ALERT: It looks like the climate bill debate has already been decided by Washington and voters didn't even have a chance to say "NO!" A staggering $65 billion dollars has been transferred from the private sector to fund the Regional Greenhouse Gas Initiative (RGGI). RGGI is government created entity that is choking companies in the northeast with huge tax increases in the name of the environment. Our tax dollars are funding this secret climate initiative. Soon RGGI will expand to every state and stick you with astronomical energy prices. (More>>>)
Sledgehammer ACTION ALERT
From Tom DeWeese, President
American Policy Center
"LIVABLE COMMUNITIES" is a SOCIALIST TRAP!

Senator Christopher Dodd has introduced a bill to enforce UN Agenda 21 policy on your community. It's called the "Livable Communities Act" (S.1619). It will destroy your community. Here's why:
S. 1619 "Livable Communities" act is on a fast track to passage!
S.1619 is a blueprint for the transformation of our society into total federal control.

S.1619 will enforce federal Sustainable Development zoning and control of local communities.

S.1619 will create a massive new "development" bureaucracy --
(development Czar?)

S.1619 will drive up the cost of energy to heat and cool your home.

S.1619 will drive up the cost of gasoline as a way to get you out of your car.

S.1619 will force you to spend thousands on your home in order to comply.

S.1619 is NOT Voluntary – it will set up $4 billion in grants (TAX MONEY WE DON'T HAVE) that will force your community to comply. (More >>>)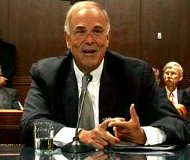 Pennsylvania Governor Proposes Tolling, Taxing and Ticketing to Balance Budget
Pennsylvania governor sees new taxes, tolls, fees and cameras as the key to shoring up the state budget.
Pennsylvania Governor Ed Rendell is struggling in his latest budget with the desire to spend more money while lacking tax revenue due to the economic recession. Nonetheless, the $28 billion budget for 2011 expends $200 million more than the previous year. Rendell yesterday testified before the state Senate Transportation Committee about how he intended to hit up motorists to make up much of that amount. (
more >>>
)

Letter to Nancy Pelosi
Letter from lawyer Dennis Guthrie criticizes Rep. Nancy Pelosi. (click here)
Comment Please Radio Show
Wednesday May 19, 2010
John DiPrimio hosted a program on called "Comment Please" on WNPV1440 AM from 12:00 PM to 1:00 PM. The archive of the show is posted below.

Irv Homer TV
Wednesday December 2, 2009
John DiPrimio hosted "Irv Homer TV".

Download Audio
Ustream Video

Comment Please Radio Show
Tuesday September 22, 2009
John DiPrimio hosted a program on called "Comment Please" on WNPV1440 AM from 12:00 PM to 1:00 PM. The archive of the show is posted below.

Sept 22, 2009

Cap and Trade: A Liciense Required for Your Home

We encourage you to read the provisions of the Cap and Trade Bill that has passed the House of Representatives and being considered by the Senate. We are ready to join the next march on Washington!
This Congress and whoever on their staffs that write this junk are truly out to destroy the middle class of the USA.... (
More >>>
)
Remember to fly Alaska Airlines
Do you remember the scene? The Senate. Barbara Boxer hearing from a Brigadier General? Silly General! He addresses Barbara as "Ma'm", and she CORRECTS him, telling him she's "worked SO hard to earn the title, "Senator", so please to use that when speaking to her. (More >>>)
The Health Care Cost Saving Myth
(CBS) One of the central selling points used by President Obama to push the Democrats' health care plan is the notion that a comprehensive overhaul of the health care system will reduce costs. But costs to who, and how? Let's step back a minute and try to figure out how Obama's cost-cutting argument could possibly be so. (More >>>)


7/16/2009
U.S. Attorney's Office
615 Chestnut Street
Suite 1250
Philadelphia, PA 19106
Attn: Michael Levy

Dear Mr. Levy,
On behalf of our supporters, the citizens of the State of Pennsylvania and this nation, I want to thank you for your efforts regarding the conviction of Mr. Vincent Fumo. (More >>>)
The Pay Raise of 2005 - Four Years later

There's a rally in the Capitol today that Democracy Rising PA cannot attend. But we're there in spirit, and we hope all Pennsylvanians are there, too. Click Here for an excellent lawmaker-by-lawmaker report by Rock the Capital.
Four years ago today, our political leadership committed an unprecedented act of theft. Without the knowledge or consent of the citizens of PA, our leaders took a massive pay raise for themselves and their posterity. (More >>>)
An Open Letter to the the President
Dear Mr. President,
I write to you as one elected official to another on behalf of average American citizens. We listen to your words and measure them carefully. With hope, we watch your actions. We then look to history and compare the events of our day with the events of yesterday. We look to our Founders and read carefully their intellectual discourses and their moral debate. They ultimately concluded that the actions of the king were best described as tyranny, because they could not be honestly described any other way. Having come to such a serious and reasoned conclusion, their path was charted—unknown as to its outcome—but certain as to its demand upon them. Mr. President, we are doing what Americans have done before. (More >>>)
The New CCS Message Board

The new Citizens for Common Sense Forum (Message Board) is up and running. Newly registered users must email the webmaster with your username to
webmaster@citizensforcommonsense.net
to have your account activated! This will help us eliminate spam.
Presented to Rep. Josh Shapiro, suggestions to reduce the State budget:
1- Furlough non-essential state workers, without pay, for up to 7 days, staggering depts.
2- Furlough the legislature, without pay, for the same amount of time as the employees. 7 days
3- Reduce the car allowances for all legislators to a maximum of $300.00 per month.
4- Require the legislature to pay for part of their health insurance, much like the rest of the citizens of the state.
5- Taxpayers should be reimbursed for the $1 million paid to Vince Fumo's lawyer for his defense. Additionally the practice of paying legal fees to defend legislators charged with criminal behavior should be stopped.
6- Reduce the size of the legislature. PA has one of the biggest if not the biggest full time legislature in the nation.
7- Privatize the State Stores.
John DiPrimio
Rohrer Reintroduces School Property Tax Elimination Act

HARRISBURG—
Hailing it as the single most important step Pennsylvania lawmakers could take to jumpstart the state's economy, prime sponsor Rep. Sam Rohrer (R-Berks) today unveiled the School Property Tax Elimination Act (SPTEA). (
More >>>
)
---
Telemarketing via cell phones
Cell Phones Go Public Today (November 9, 2008)


I suspect most of you are already aware of what follows but if this message keeps just one person from receiving unwanted calls, it will have been worth my time.
(More >>>)

---
Citizens for Common Sense
is a not-for-profit organization. We are all volunteers, no one is paid. There are no mandatory dues to belong to Citizens for Common Sense, we depend completely on your generosity, and we thank you for caring enough to support our efforts. Your participation is needed as well. You and only you can write and call the politicians regarding the issues we address. You and only you are needed to write letters to the editors of the newspapers, and you and only you are needed to call in to the talk radio stations to bring light to the issues of importance to us all.
Mission Statement
Citizens for Common Sense, founded in 1997, is a watchdog organization that looks at the issues confronting our Society. Citizens for Common Sense seeks to inform people in a non-partisan way, presenting an alternative, critical view, to those issues affecting us all. It started with our efforts to stop the enhanced emissions testing for our vehicles, and now we look at issues like taxpayer financed stadiums, state run gambling, tax fairness and privacy rights. Citizens for Common Sense is a not-for-profit group of ordinary people who feel shut out, ignored, and taken for granted by our government. Through education Citizens for Common Sense hopes to effect change for the betterment of everyone.
Donations
Here at Citizens for Common Sense we distribute "The People's Voice", our newsletter. for anyone that makes any donation. Make your check out to "Citizens for Common Sense". Send your $25, $50, $100, or any other amount to:
Citizens for Common Sense
P.O. Box 2382
Jenkintown, PA 19046